New Designs!
We have a wide selection of beach attire for both him and her;

"Where Do You Wear Your Juana Wear?"
We also offer a wide variety of merchandise,
so take a piece of our paradise home with you today!
Juana Shop email
Send us your request and we'll ship it to you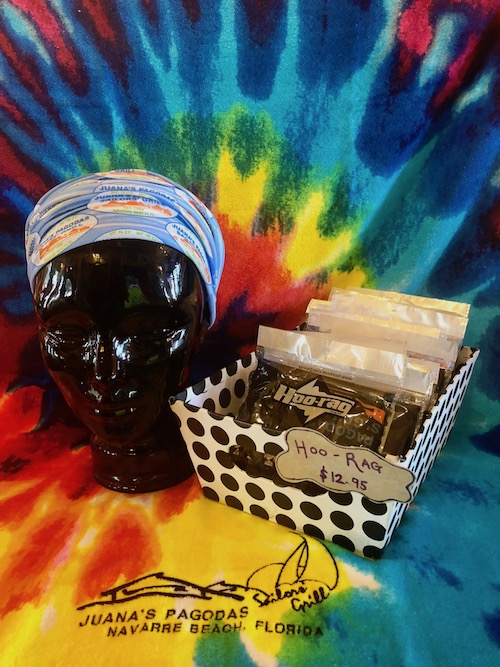 Hoo-Rag and Tie Dye Beach Towel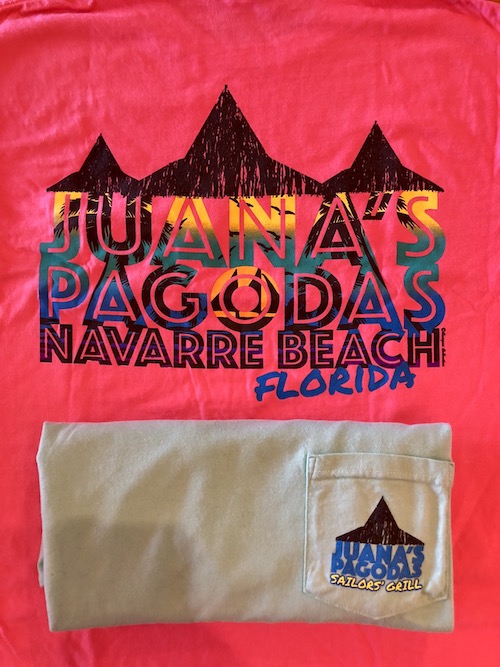 3 Hut Retro Comfort Colors pocket tee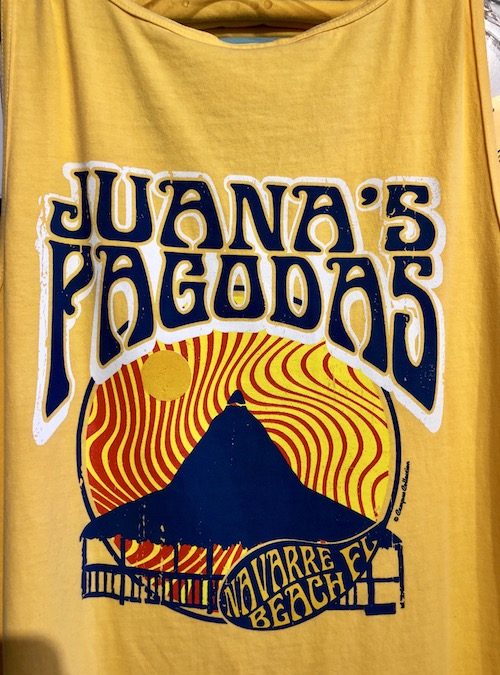 Groovy Pagoda (Comfort Colors tee and tank)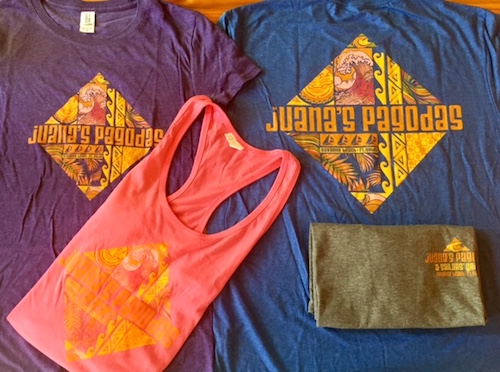 Abstract Diamond tanks and tees, men's/women's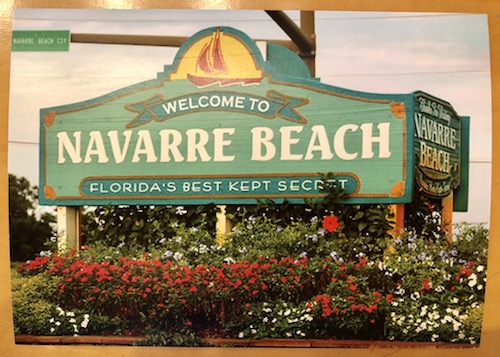 Old Navarre Beach Sign postcard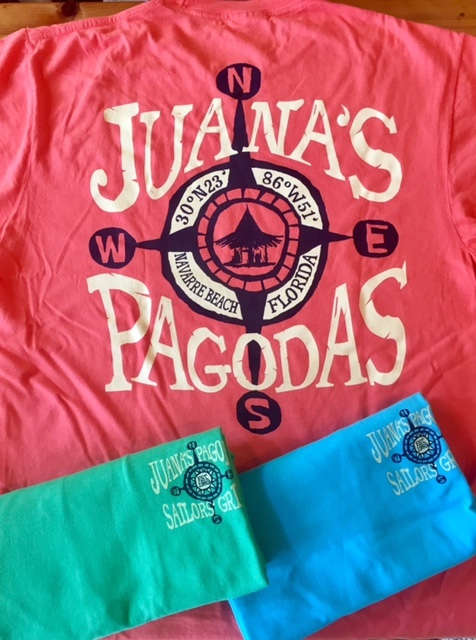 Compass T's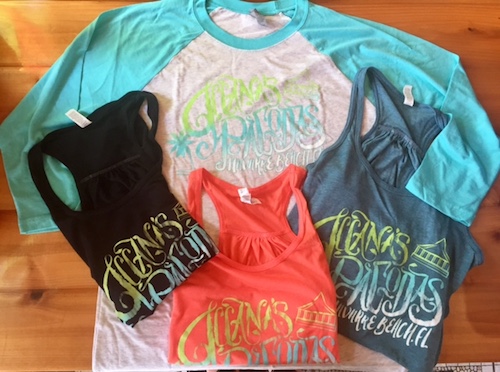 Faded Hut tank, 3/4 sleeve T, & hoodie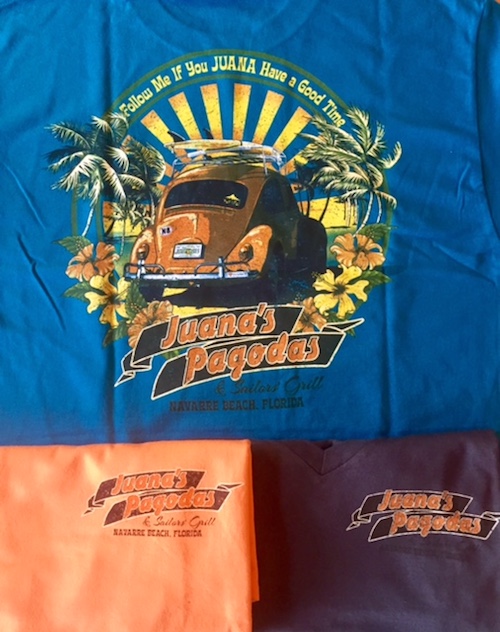 Follow Me VW Bug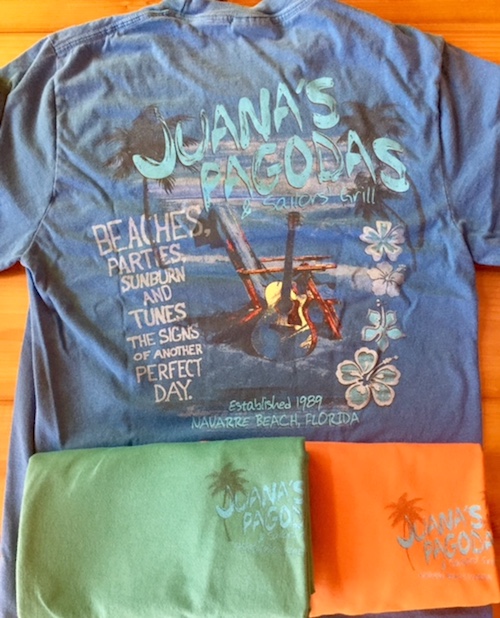 Guitar Beach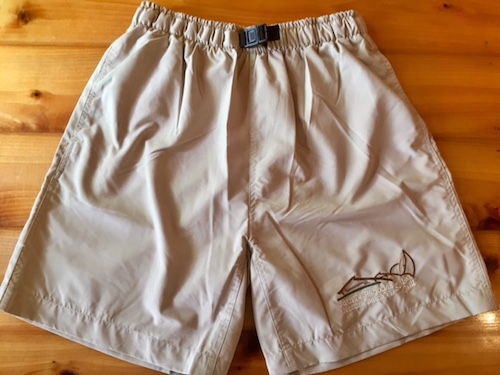 Khaki Shorts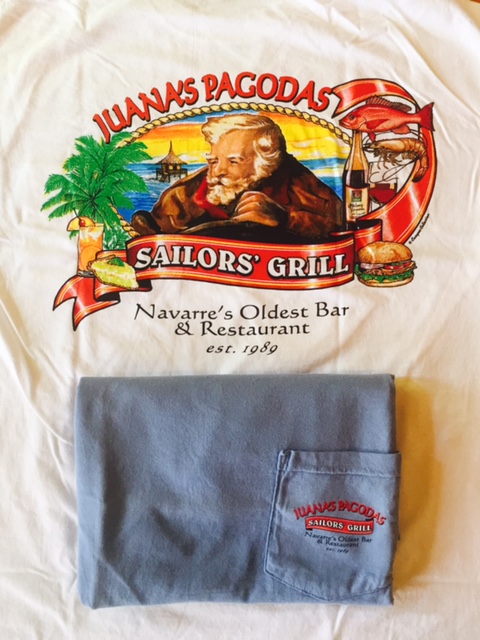 Sailor Man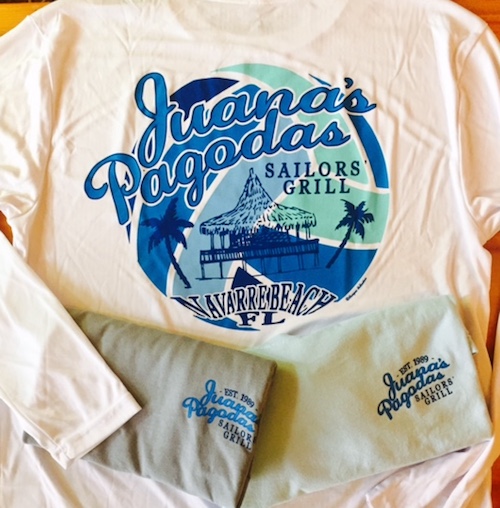 OP Volleyball, short sleeve & long sleeve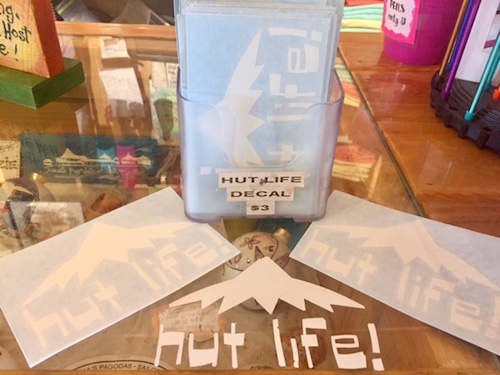 Hut Life decal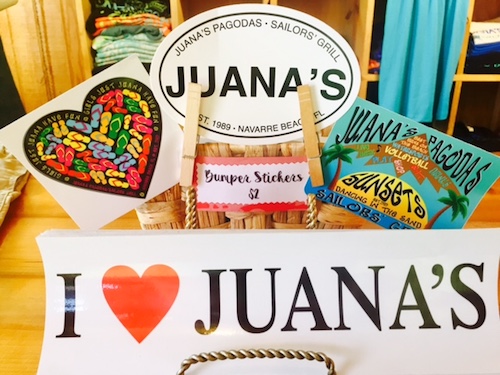 Bumper Stickers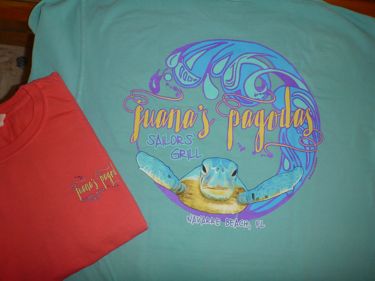 Sea Turtle T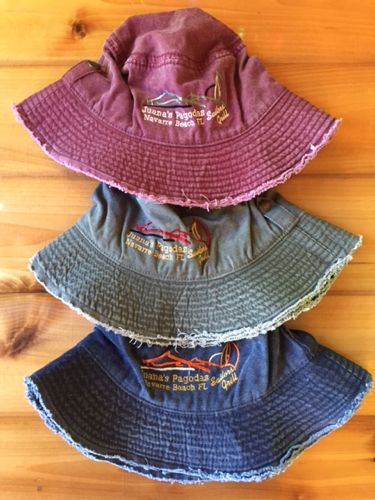 Bucket Hats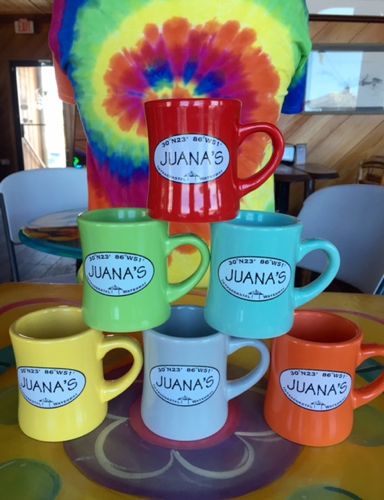 Diner Mugs - 6 flavorful colors
Free cup of coffee with purchase of mug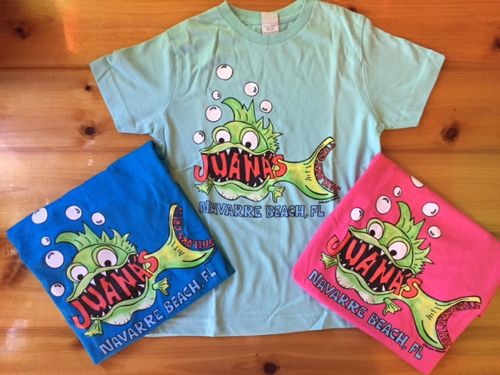 Kids Angry Fish Tee - After 9 PM, kids will be fed to the fish!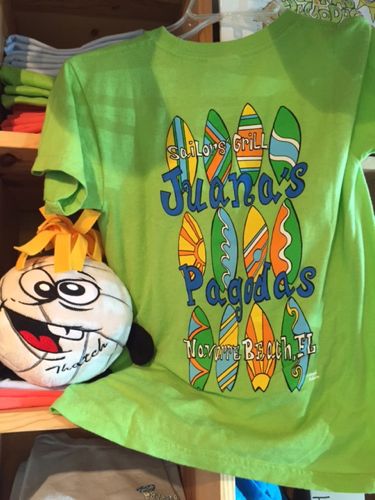 Kids Surfboard Tee - Thatch wants to catch a wave!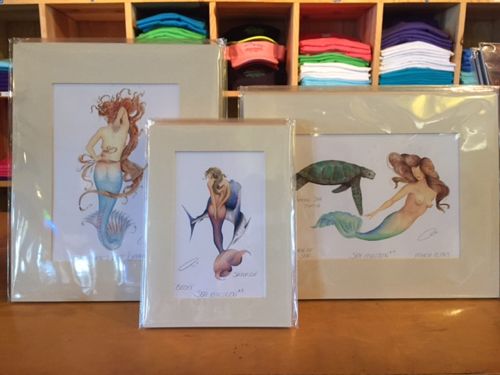 MERMAID PRINTS (Large & Small)
Talented artist Robert Klein brings his beautiful mermaids
to Navarre Beach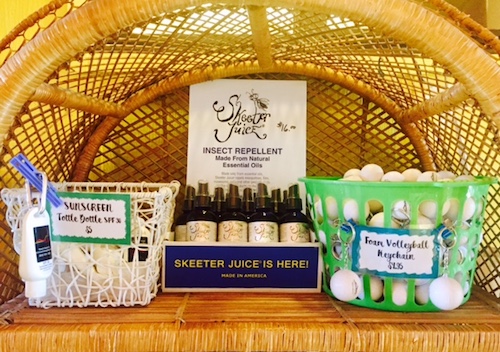 Skeeter Juice insect repellent is here!
Foam or SPF 15 lipbalm Volleyball Keychains,
SPF 30 sunscreen tottle bottle & SPF 15 lipbalm stick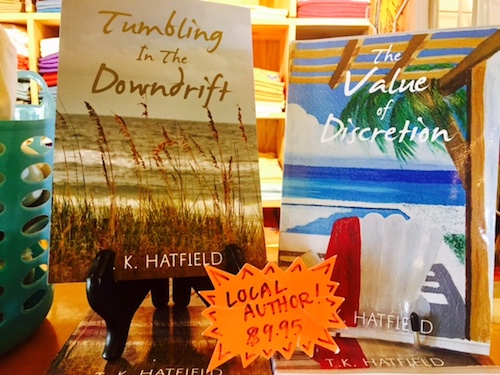 Local Author TK Hatfield has written 2 books about
our beautiful area...featuring our piece of paradise!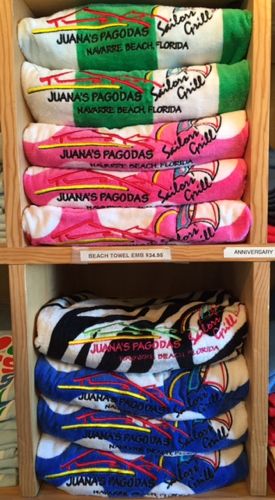 Embroidered Beach Towels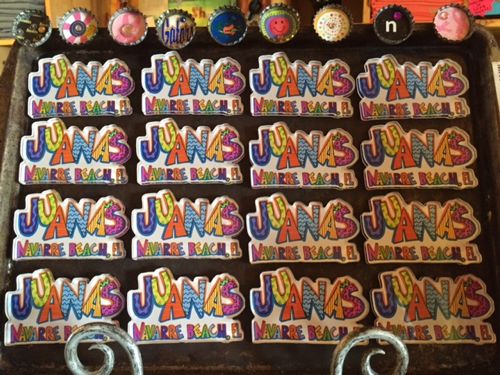 Acrylic JUANA'S Magnets and Misc Bottle Cap Magnets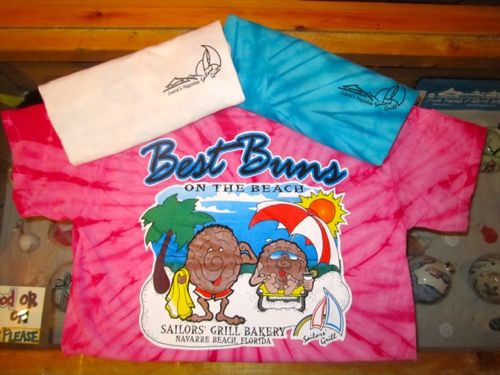 Best Buns on the Beach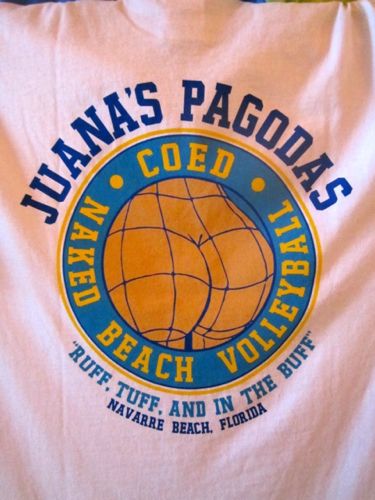 Co-ed Naked Volleyball Tee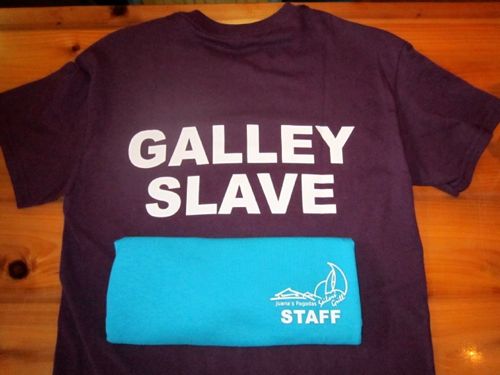 Galley Slave Tee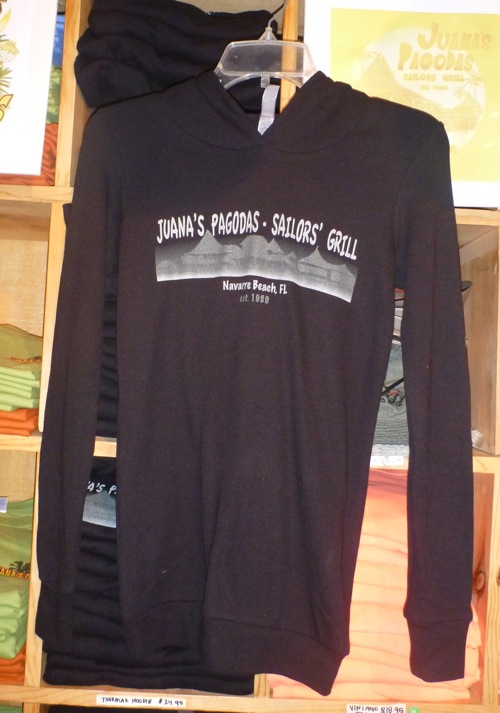 Thermal Hoodie - Black or Burgundy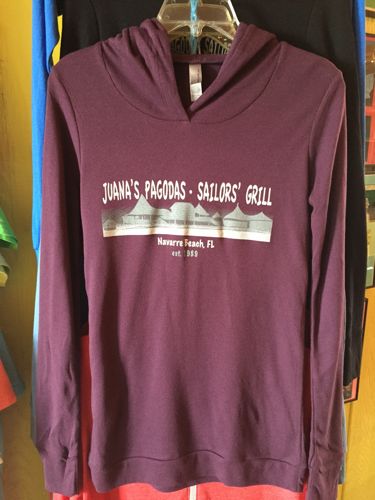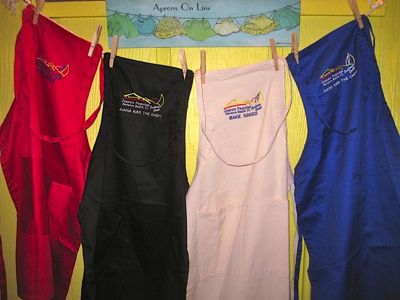 APRONS...you'll JUANA be cookin' in style!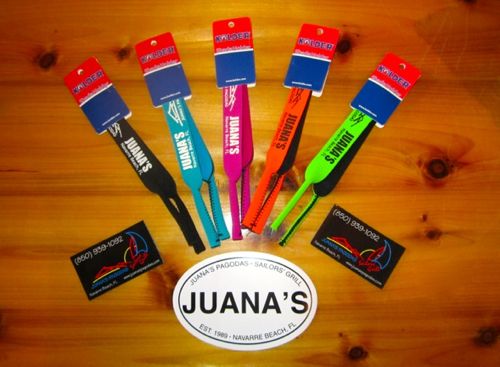 You wouldn't JUANA lose your sunglasses would you?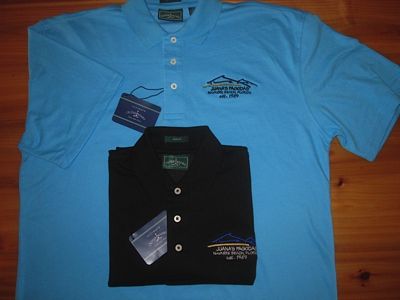 Men's POLO Shirt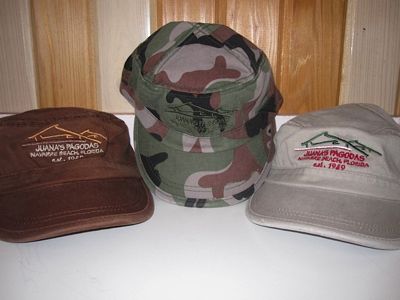 Assorted Military-style Caps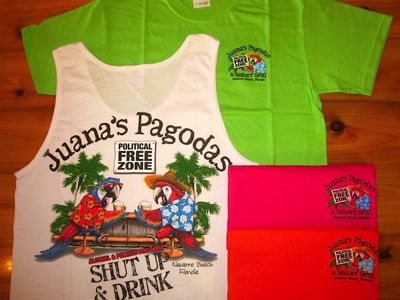 Political Free Zone Tee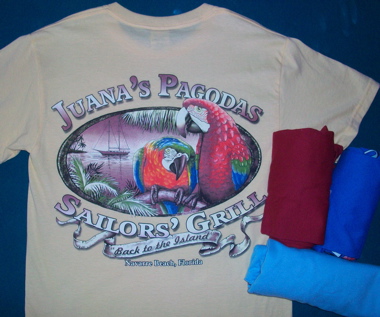 Back To The Island Tee, also available in long sleeve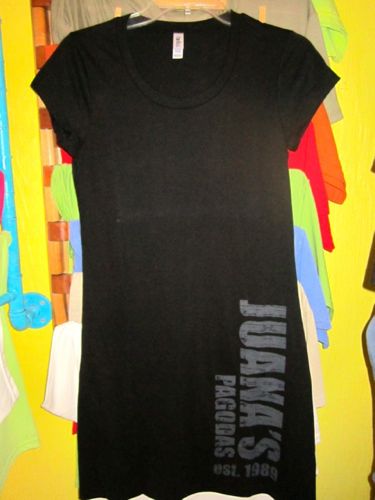 T-Shirt Dress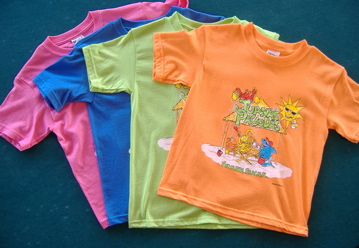 "Under the Sea" Kids Tees and Rompers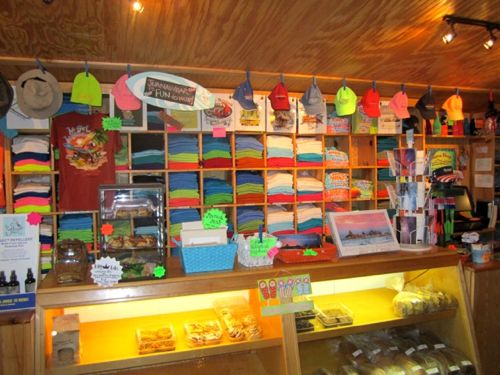 The shop is located at the entrance to Sailors' Grill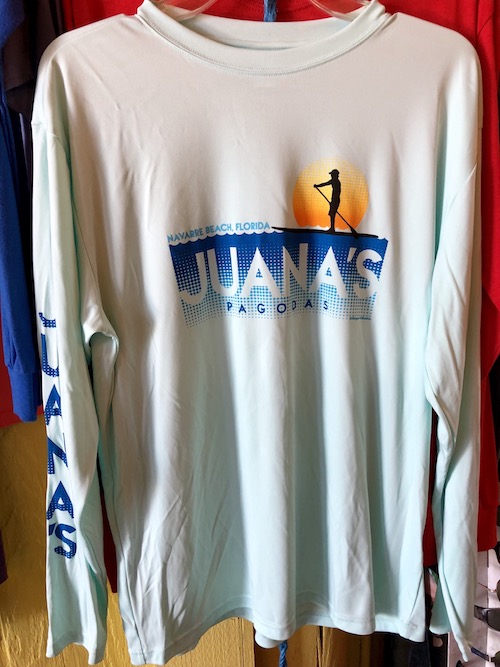 DOT Boarder "Dri Fit" (short & long sleeve)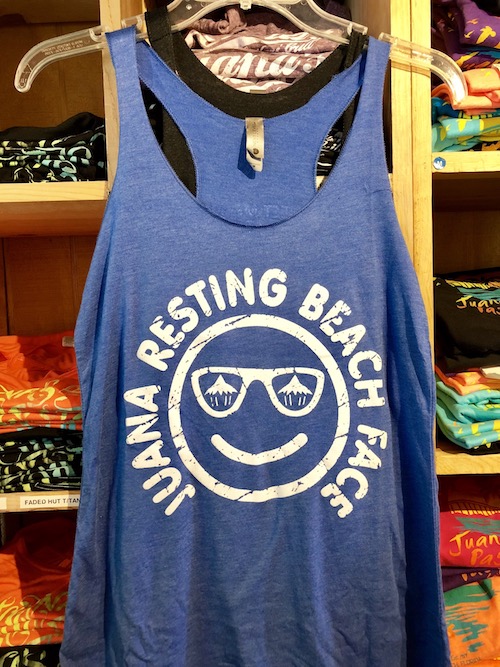 Juana Resting Beach Face ladies tank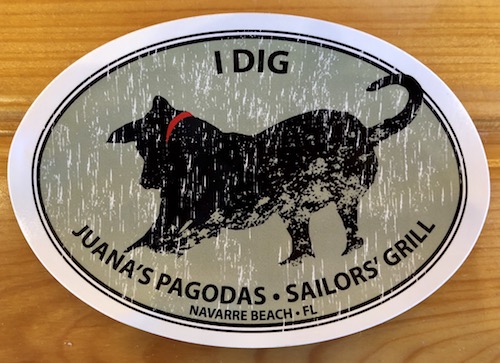 I Dig Juana's bumper sticker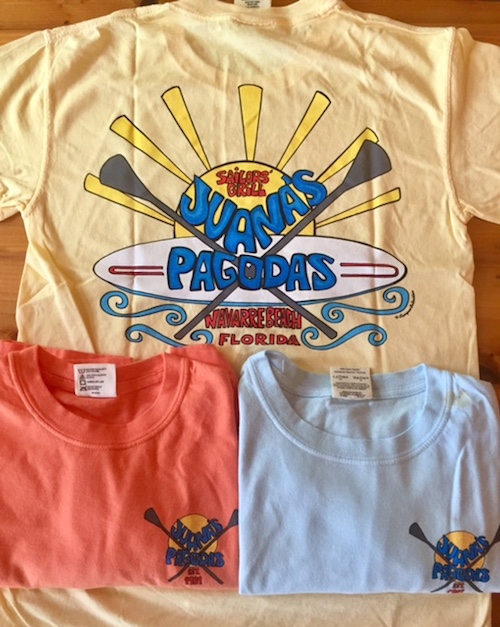 Paddleboard T, Adults & Youth Sizes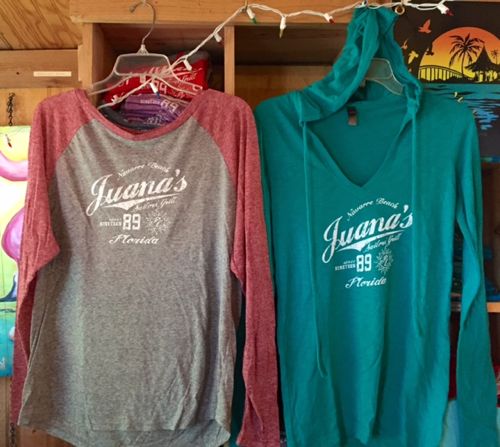 Ladies Vintage long sleeve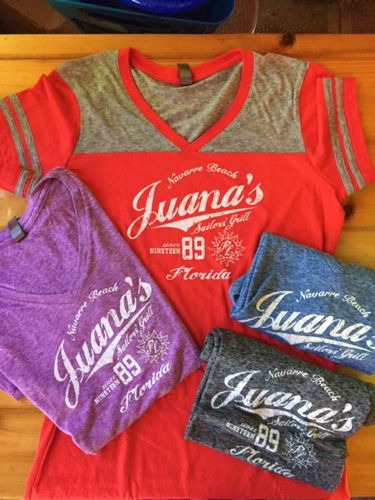 Ladies Vintage Tee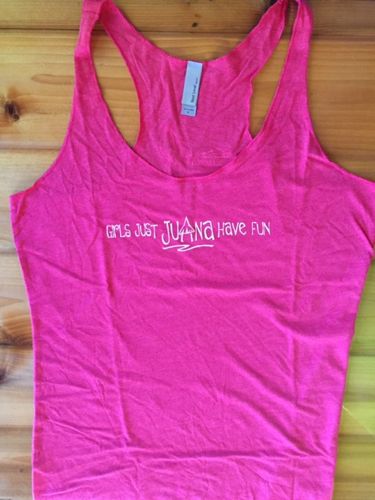 "Girls Just JUANA Have Fun" Racerback Tank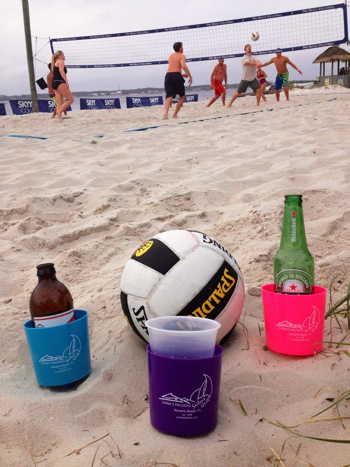 New BEACHNIK Cup Holder, perfect for the beach!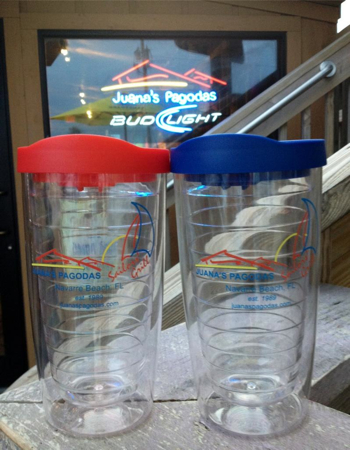 Insulated Tumblers with lid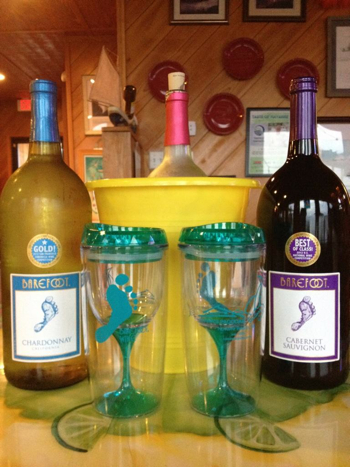 Vino-To-Go Wine Tumbler-get Happy Hour Prices
on Barefoot Wine ANYTIME!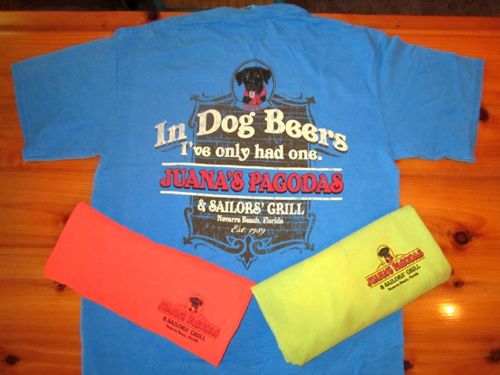 Dog Beers Tee, also available in long sleeve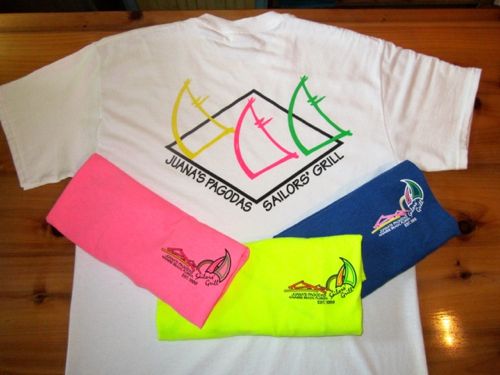 Classic Tee, also available in long sleeve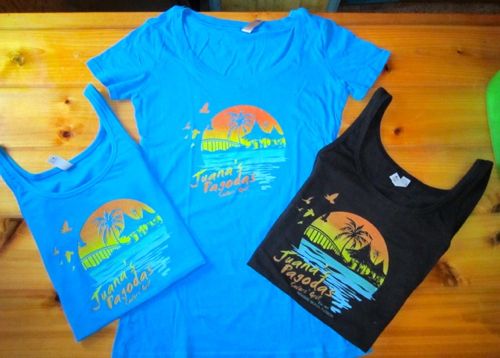 Bridge, Hut Oval Tee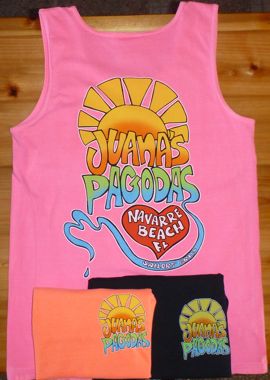 Sun Heart Tank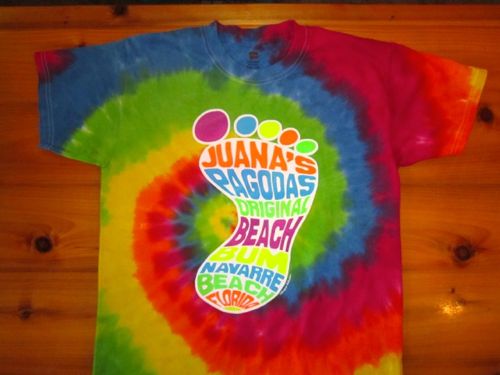 Footprint Tee and Tanks (Adult & Youth)
Also available in long sleeve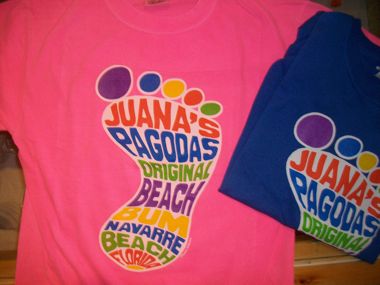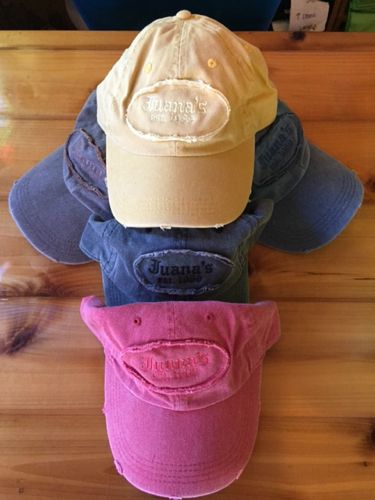 Patch Caps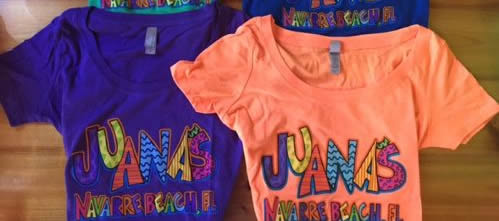 Patterned Letter Tee, Tank & Sundress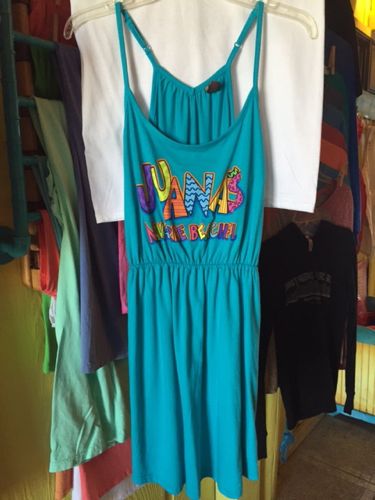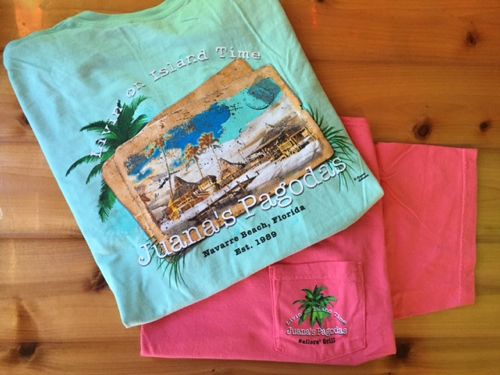 Postcard Pocket Tee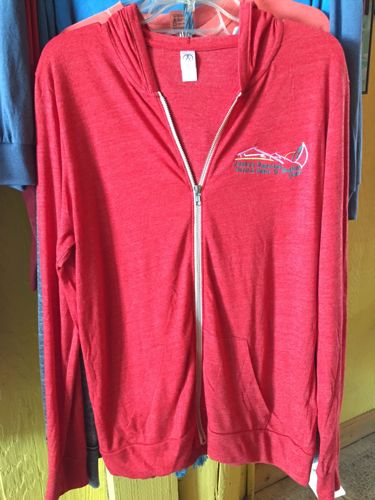 Ladies Coral Hoodie & Mens Grey Hoodie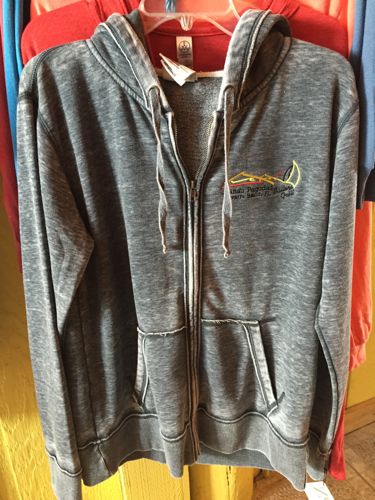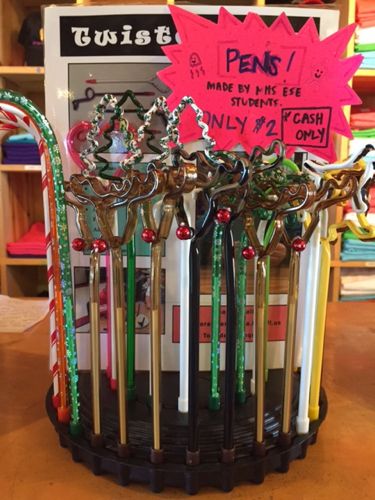 Twisty Pens made by local Navarre High School
ESE students make a fun gift year around!!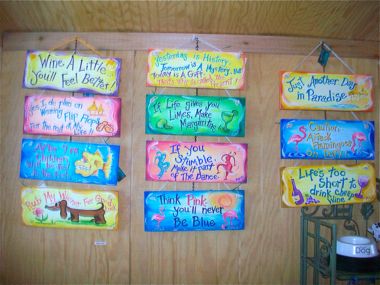 Local Beach Art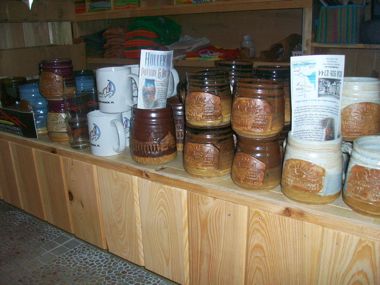 Locally Crafted Mugs by Holley Hill Pottery
(the white mugs to the left are no longer available)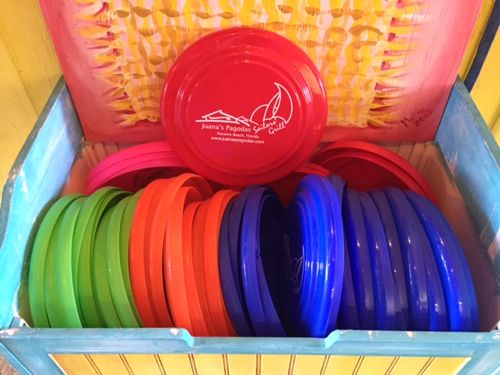 FRISBEES...for sale individually or can be included with
the children's meal on our menu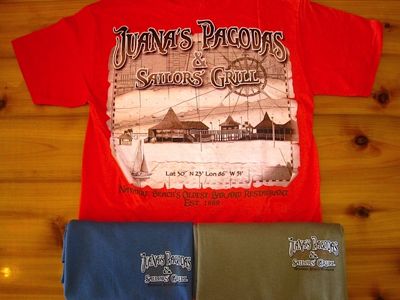 Our popular LEGENDS Tee, also available in long sleeve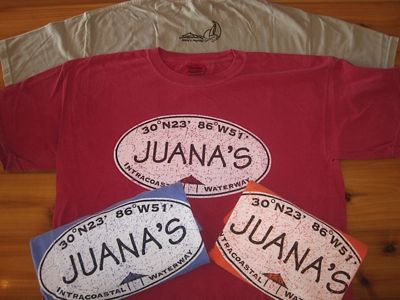 Latitude Longitude Tee, also available in long sleeve

Same Beginnings Tee, also available in long sleeve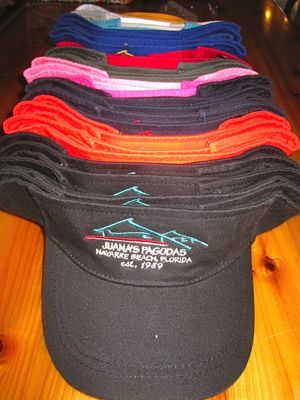 Drink specials on Tuesday if you have a Juana's hat or visor-
They come in lots of colors!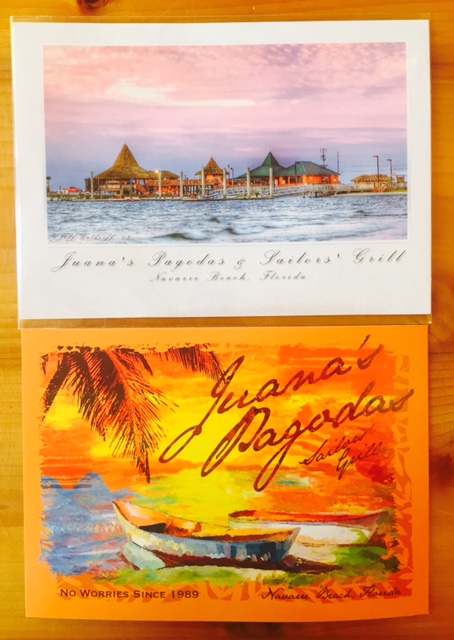 Postcards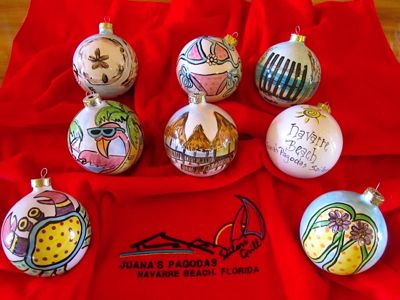 Hand-painted ORNAMENTS by local artist, Cissy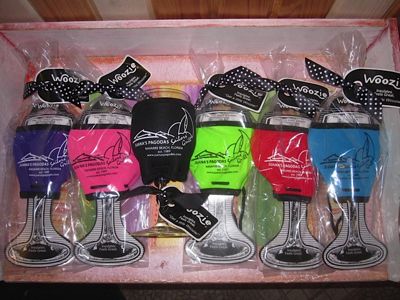 Juana keep your wine cool?
Get a WOOZIE, the original wine glass koozie.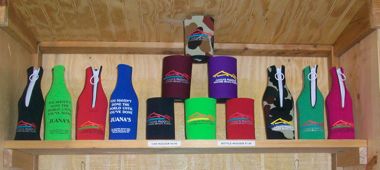 Keep your beer icy with our neoprene can and bottle huggers.
Thursdays are Juana Hugger Day.....
.50 off regular priced drafts or bottles with your Juana Hugger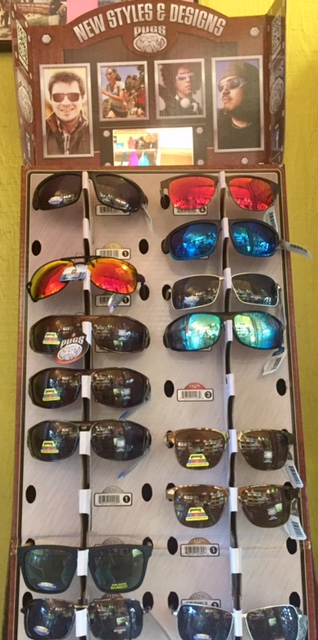 Pugs Sunglasses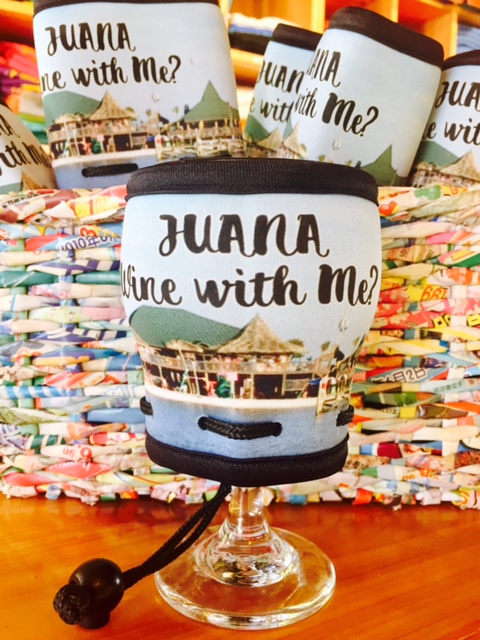 New Panoramic Photo Woozie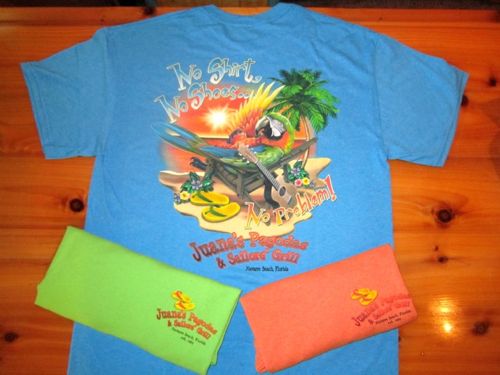 No Shirt, No Shoes, No Problem tee